They say Callum Jackson's a savage.
No home. No prospects. No self-restraint.
He's red-flagged on my system, a grade-1 aggression risk, totally off limits for a woman like me.
But the rules don't allow for my dangerous games; they don't bend for my twisted desires.
Callum Jackson is the most beautiful beast.
A beast I can't stop thinking about, can't stop wanting, can't stop hunting...
...I just pray to God this beast bites.
Sophia Harding runs a tight ship. She may work in the dregs of housing association slums, but her patch is on the way up.
Anti-social behaviour is down, employment is on the rise, and she's even been shortlisted for estate manager of the year.
It's looking good. Really good. Until Callum Jackson completes his jail time and lands right back on her doorstep.
She could do without a guy like him on her books: a failure of the system and a pain in the fucking ass.
She should tick the boxes, do her job and keep her distance – that's what the handbook says. The handbook says no one-on-one contact, no at-risk situations, no direct confrontation of any kind.
But the handbook doesn't know of her craving for hardcore submission.
The handbook has no fucking idea how she yearns to unleash Jackson at club Explicit, where his savage can really run wild.
The handbook doesn't know shit...
Review:
I just don't know what could be wrong with Dirty Bad Savage!! Jade has done it yet again. I'll repeat what I said before..it gritty...it's dirty and it's SO good you will not want to put it down!!
Callum is RAW..he's DIRTY...he's a WRECK but it is perfect!! He has a side to him that makes you fall in love with him but you also feel sad for the things that he goes through and what he has gone through.
Sophia is sweet! She is not aggressive and she needs that dominance in her life. She does so many things for people and the one thing that melted my heart was saving an animal from abusers.
These two are so good for each other and I was so happy to read this book. Jade has done a fantastic job and I loved getting to know all side of the characters!!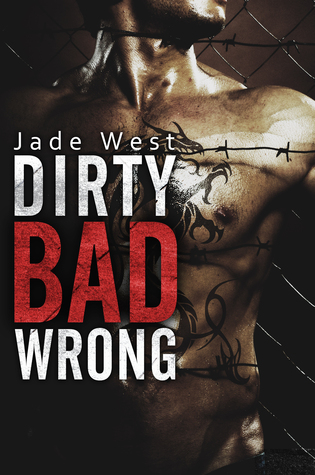 They call him Masque.
The man I want to consume me, own me,
break me and corrupt me.
Yet I've never seen his face.
His body ripples like an adonis, sculpted in steel and
dripping in sin. His flesh is inked with the mark of the
chimera – one body, two very different halves.
He plays hard.
He plays rough.
He has no limits.
He's so fucking dirty bad wrong.
But I love him for it.
***
Lydia Marsh is always the strong one. The girl who never breaks, and sure as hell never cries. She's got it all – the perfect little life in cosy suburbia, with her perfectly nice boyfriend, and their perfectly sufficient sex life. She's even got her perfect little career plan all wrapped up at Trial Run Software Group.
But when it all falls apart, and Lydia's pretty, green eyes are fixed on a brutally sexual stranger – the man they call Masque – she comes to suspect that being strong isn't all it's cracked up to be.
For now Lydia wants something she's never wanted before…
And she wants Masque to give it to her.
**Warning – this novel contains graphic sex, and hardcore elements of BDSM. There are scenes of violence (consensual) as well as sexual practices some readers may find offensive.
If you aren't turned on by dirty bad wrong sex then please walk on by. Thank you.***
4 Star Review:

ARC received for an honest review***

I couldn't put this book down!! First and foremost if you are not into the nitty gritty, please do not read this book and the author clearly tells you that!!

James Clarke, aka Masque was the ultimate dom but there was more to him than just being a dom. He's a business man. He loved pain and he loved inflicting that pain to subs to watch them break and give him there tears. He was difficult and suffered something big in his life that made him the man he is.

Lydia was quite but there was something she was missing and James had it to give. I think he knew what she needed before she did. Lydia had gone through something that everyone does but she had no one to turn to until she put herself in James's world...a world that she knew nothing about but a world that she needed more than anything.

I absolutely loved this dark book to some but refreshing to me. I loved how James couldn't open Lydia up but soon she realized what she had to lose to be free and what she could gain.

Jade West wrote an outstanding book and I want so much more!!